You have to be logged in to be able to access this page
Login now or
Register Free
if you are a new user.
Thank you for using CloudSMS
CloudSMS Platform Instruction Manual
FAQ
I need to call CloudSMS urgently?
Call us via our 24/7 customer service number
08179092255
Whats CloudSMS's Email?
Send us email via any of the below
support @ cloudsms . com . ng
sales @ cloudsms . com . ng
info @ cloudsms. com . ng

Do i use 234 before my numbers?
Its not compulsory you put your numbers using the 234 suffix, if you leave it at 080, 070, 081 etc, your message will be sent successfully
How do i format numbers to use on CloudSMS?
You need to put each of the numbers present in your contact list on a new line i.e. one per line like its shown below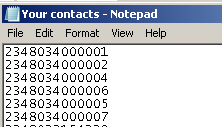 How do i pay for sms
You can pay for sms using your email address as payee to any of the underlisted accounts, as soon as your payment is recieved, your account will be credited automatically.
Bank Details
Payment to Cloudsms Accounts in Nigeria, using your email address (package) as payee eg dainel @ yahoo . com

United bank of Africa PLC(UBA)
Account Name: CloudWare Technologies
Account Number: 1017480764



Access Bank Plc
Account Name: CloudWare Technologies
Account Number: 0058996663



Enterprise Bank Nigeria
Account Name: CloudWare Technologies
Account Number: 1200999819



Fidelity Bank PLC Nigeria
Account Name: CloudWare Technologies
Account Number: 4010770879



First Bank Nigeria Plc
Account Name: CloudWare Technologies
Account Number: 2022295972



Guaranty Trust Bank Plc
Account Name: CloudWare Technologies
Account Number: 0118393086



Stanbic IBTC bank PLC
Account Name: CloudWare Technologies
Account Number: 0005353760



Ecobank Benin
Account Number: 0030831122851101



For Payment in other African currencies please contact us
If you need further information, Please contact us
I want CloudSMS's HTTP API alone
For details on our API for Integration to your applications, please
contact us
or Visit our
developer zone